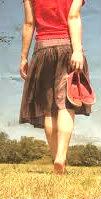 She stumbles about trying to walk in her new shoes.
She is unsure and unsteady as she attempts to discover
the living room and then the kitchen.
Mae had just recieved her first pair of shoes.
With every step her foot would highly rise
and she would plod through the spaces with
Giant
steps.
Then, she would Stop, Sit and Look at those SHOES.
They were so difficult to wear, she struggled to remain balanced.
Why do people wear those crazy things called shoes, anyways?
For days baby Mae's frustation with a thing called shoes was evident.
I would place her new "cute" shoes upon her feet and she would
take a few high steps and then remove them from her feet.
Mae was only 12 months But she was overwhelmed ...
She simply just couldn't walk with shoes.
As she looked toward momma,
I could hear her speak (almost ) without words,
" I can't walk in these shoes "
"I can't do it ".... "It's just too hard "
I too, have felt that way!
I have felt the moments of life that seem unbearable.
The moments that don't take your breath away BUT steal it !
You know the moments in life...
The difficult ones, the frustrating ones, the scary ones ?
I have stared disappointment, discontent and overwhelment in the face.
I have felt just like my baby Mae ...
"I CAN'T WALK IN THESE SHOES."
Why must this be the path for me! It's just TOO much!
It's more than I can handle ...
Have you been there
?
Are you visiting this "
place
" of discontent now?
Ladies, No matter how giant your circumstances
Embrace your current season of life with Trust in the Lord ...
We need to trust that the
He
is sufficient to meet our every need.
No matter how great or small ! (Even the scary and unpleasant ones.)
Remember, He will never leave
YOU
or forsake
YOU
Hebrews 13:5
I personally invite you to join me on
Facebook
.
Please, Follow on
Twitter
and
Pinterest
.